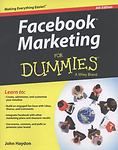 It is the question that everyone asks. Can I market my home business using the power of Facebook? Facebook is one of the best and more affordable places to market your home business. Once you've registered for free and set up your presence on Facebook, you can reap the rewards of participation in exchange for just few minutes a day spent networking and refreshing your site.
Facebook is an online gathering place where individual members communicate and collaborate with one another using Web 2.0 tools like chat rooms, instant messaging, online video and other methods. Using this social networking tool you can set up presence online quickly and start attracting new affiliates for your company.
Facebook users develop profile pages that their "friends" can view and respond to. When those profiles pages are part of a network, everyone within that network can view those pages. The profile itself usually includes some or all of the following:
Information
Status
Friends
Friends in Other Networks
Photos
Notes
Groups
The Wall (where users post their most recent information, photos, etc.).
To get your home business set up on Facebook, go to the site's "Pages" feature, which allows companies to collect "fans" (through marketing messages like "find us on Facebook at (your link here) included on your company website and marketing materials. Once set up, your new page will join the more than 1.4 million Facebook Pages that collect over 10 million fans daily. Small and home-based business owners just like you run many of those pages.
The more you update your Facebook presence with useful, interesting information, photos and multimedia, the more "fans" will come to your door. Here are a few good strategies to use when interacting with potential affiliates on Facebook:
Make them your friends: Facebook is all about creating close ties with your fans, all of which should think of you as a "friend." You may never meet any of them in person, but in the online world, this type of connection qualifies as a friendship.
Get your business up and running: Once you have a personal profile, create a page for your business. Populate that page with company information, photos, video, upcoming events, discussion forums and links back to your home-based business' Web site.
Make it interesting: Upload photos, videos, logos and other marketing materials that help people know you by more than just words. You want them to think of you as a person, and not just a brand.
Tell them what you do: Offer a complete range of information about your company. The more complete your profile, the more easily you can connect with other people.
Stay professional: Keep overly personal information and photos off of your Facebook Pages business site, and always maintain an air of professionalism when updating and posting information online.
Success Strategies There are many ways to build your Facebook following and market my home business. You can upload your contact database to see which of your contacts are already on Facebook, and ask to "friend" any of them you wish. This gives you a good starting point on Facebook, rather than starting from zero.
Add applications to increase the functionality of your page, such as an RSS feed from your blog or embedded videos from YouTube. Doing this will help boost your Facebook page's rankings with search engines like Google.
Be sure to promote the heck out of your Facebook page. Advertise your company page via email, your blog, and through the Facebook network to drive more traffic and build up your fan base. Entice users to click through to your company website by giving them a reason to do so: a special offer, a short report, an ezine article or something that catches their attention.
Join and create groups that are visible to Facebook members, and you will finally be able to say that you use Facebook to market my home business. You can join as many as you want and get in touch with all members of the groups. Groups are formed around any type of interest, from "green" living to industry-specific issues to hobbies and crafts.
Use these tips to start building a following of Facebook friends who are receptive to your suggestions when you recommend products or services (the ultimate goal of any affiliate marketer). Once these friends and followers know that you have something of value to offer, they will click through to your company website to learn more.
Robert Hawthorne is a home business owner and full-time Internet Marketer. He is the creator of the Market My Home Business [http://marketmyhomebusiness.com/] course that offers 3.5 hours of video training on how to market any home-based business on the Internet using proven strategies and tactics that he has personally used to sell millions of dollars of products online.
Article Source: http://EzineArticles.com/6064319